About imagimake fleximos princess
Style Name: Imagimake Fleximos Princess
This is Fleximos Princess Peel and Stick Window Sticker which is good in quality.
CREATIVE FUN WITH FLEXIMOS – Let your child experience the joy of creativity by decorating their room with these adorable Princess DIY Window Art stickers
3 APPEALING DESIGNS – Includes 3 window stickers – Princess, Fairy and Mermaid! Comes with 12 pouches of clay for kids in 5 colours
QUICK & EASY CRAFTS – It's so easy, even a 3 year old can enjoy it. Just fill in the special Dotz Clay in the lovely sticker outlines while making sure to use lots and lots of clay!
STAIN FREE STICKERS – Once the stickers are made, just turn them upside down and gently peel off the silicon paper. Just stick on any smooth surface. We love using them on windows, mirrors, tiles and even desks & wardrobes. Once you're ready to change the look of your room, you can simply peel off the sticker and place a new one!
PERFECT GIFT – Princess Window Art is a great indoor activity for the kids. It is a great option for party gifts or return gifts as well.
CONVENIENT PACK SIZE – Dotz is an AIR DRY material. We have packed it in small pouches to help you consume a whole pouch once you open it. In case you wish to save an opened pouch, be sure to pack it in an air tight container (it can last for 48 hours)
KID SAFE CRAFTS – The kit features non-toxic and child-friendly materials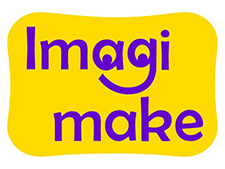 Imagimake Fleximos Princess is all about children, fun, learning and imagination! We have launched a set of interesting Do It Yourself Craft Kits for kids from 3 yrs all the way up to items that even adults enjoy! These products are a great way to harness the creativity and expose kids to a whole new world of possibilities!