About Imagimake Mapology India with State Capitals
A unique foam map puzzle that makes learning of Indian States, Union Territories and their Capitals fun and exciting experience. All puzzle pieces are cut in the shape of the States that snugly fit with each other to create replica of the India map. This toy includes 1 EVA foam outline frame, 24 State shaped puzzle pieces, 35 Flags to stick on the state capital stickers. The guidelines are provided within the box to identify the state location and their capitals. Using this puzzle, your child not only learn the name and location of states, but also the state capitals. It also gives a visual understanding through creative graphics of neighbouring countries of India and the various oceans that surrounds India. This puzzle helps in improving the hand and eye coordination, motor skills, also improves memory. Size of the puzzle is 37 cm (14.5 inch) x 32 cm (12.5 inch). This kids toys is made of 8 mm EVA Foam – Safe & Sturdy – Material complies with European safety standards.
Educational Jigsaw Puzzle (Mapology India) by Imagimake- Learning made fun
Mapology India : Learning about Indian states and their capitals has been made fun by this educational jigsaw puzzle by Imagimake. It comes in the form of a puzzle which when set to pieces form the map of India. It is a great playtime involvement for school goers who want a break from their Geography books. Gather around some friends and help the young minds learn in a play way manner.
Mapology India Highlights
Makes learning enjoyable

Comes with 1 foam puzzle frame, 23 state pieces, 34 flags and puzzle stickers

Safe to play with
Made of foam

A unique and fun foam puzzle is here by Imagimake to help your children with the advanced learning process. The material used is foam which is durable.

Precisely cut pieces

All puzzle pieces are cut in proper shapes. Precision cut outs allow better fit when solving the puzzle. The edges are smooth so that they can place them properly while playing the game.

Capital stickers

This jigsaw puzzle comes with stickers that bear the names of capitals cities. You can easily indicate the capitals with this stickers.
Flag markers

This jigsaw puzzle has plastic made flag shape markers. You can stick the stickers on the markers and place it on the indicated area of the puzzle.

Dimension

This educational puzzle by Imagimake comes with a length of 37cm (14.5 inches) and breadth of 32cm (12.5 inches). The dimension of the product makes it easy to use and travel friendly.

Comes with user guide

This jigsaw puzzle comes with a user guide. This has an outline of Indian map and has all the required pointing. It'll help you to solve the puzzle.
GEOGRAPHY MADE FUN: A unique, fun and exciting foam map puzzle toy to help children learn the States of India, Union Territories and their Capitals

SOLVE TO LEARN LOCATION: This learning & education toy consists of 1 EVA foam frame puzzle, with precisely cut 24 state shaped puzzle pieces that will help the child learn the locations of the states of India

FLAG THE CAPITALS: Stick the Capital stickers on the plastic flags provided and insert them in the slit provided in their respective states

STURDY & SAFE: All the pieces are made of 8 mm EVA foam and snugly fit to form the India map. The materials used conform to the ASTM standards for toys so the parents can confidently choose this product to provide an innovative, delightful and safe play experience for their children

CONTENTS: 1 Foam Puzzle Frame, 24 Puzzle Pieces, 35 Flags & Capital Stickers
About Imagimake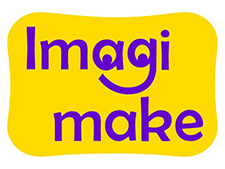 Imagimake is all about children, fun, learning and imagination! We have launched a set of interesting Do It Yourself Craft Kits for kids from 3 yrs all the way up to items that even adults enjoy! These products are a great way to harness the creativity and expose kids to a whole new world of possibilities!