About Imagimake Stamp Art Combo (Food+Smiley+Ocean+Jungle)
Imagimake brings to you awesome and fun-filled activities across categories of craft, compound and colouring. We are dedicated to delivering innovative products to nurture creativity and enhance learning for young ones. Our award-winning range of toys and play system provide hours of creative fun and constructive engagement for children. In our colouring series, we have Stamp Art which has some great art and craft kits for kids to explore the world of painting and colouring in a new way. It makes the activity fun and engaging for the kids with the mess free wash and reuse stamps and easy blending pens!
ART DIY SET: Great fun activity kit comes with adorable 6 Stamps, 3 Stamp Pens and 4 Creative Projects – making it a great art set for kids

SIMPLY STAMP: Simply swipe the Stamp Pen to effortlessly imprint the cute ocean theme designs like an octopus, seahorse or a starfish. Then just wash and reuse again and again

EASY BLENDING: This colours set for kids comes with a combination of stamps and pens that are Easy Blending – now, creating beautiful blends and patterns is child's play

MESS FREE CREATIVE PLAY: A new way of stamp art – say goodbye to messy paint with our mess free Stamp Pens

ONE STAMP ENDLESS POSSIBILITIES: These stamps can also be used in cool crafts like card making, scrapbooking and lots more. It is a great colours set for kids for 3 year olds and above
Colour, Stamp, Create
Stamp Art presents a new colouring and painting activity for kids. Just add colour to the stampers using the stamp pens or the stamp pads, stamp it on to any paper and keep creating! This activity kit for 3 year olds provides for mess free play as the child does not have to use any paint which would make the floor or table messy like in sponge painting. Plus with the Stamp Pens the kids have a lot more control on their design and are able to use their imaginations to make lovely multi-coloured designs on the same stamp itself!c
Easy Blending

Now the kids can create beautiful blends with the combination of Stamps and Pens that are provided in the kit and with the easy instructions of different blending and pattern techniques. Kids love the idea of creating beautiful seamless blends and shading like artists but often find it difficult to achieve. The specially designed combination of stamps and pens works almost magically and allows any amatuer to also create the most breathtakingly perfect shading.

One Stamp Endless Possibilities

Get creative with your stamps and explore a whole host of fun ways in which you can use the very same Octopus (Keep changing to the stamp that we have used in the graphic) stamp but make him look like a whole new character. Patterns, blending, expressions – these are just some ideas. Try something new and share it with us too!

Wash and Reuse

The washable and reusable stamp set for kids keeps a child engaged for hours and hours of playtime as the child can keep on exploring different blending techniques and make different patterns each time. The easy to wash and reuse feature helps the child to independently evolve as an artist as they get to play and learn the new colouring technique again and again.
Making Makes Us Happy
Stamp Art gives children a perfect space for self expression and creativity. From creating a greeting card for their friends to using the stamps in a scrapbook, there is no end to the possibilities. The combination of the stamps and the pens have been especially designed to make the process of getting beautiful impressions absolutely effortless. Now even our young kids can create spectacular works of art with blends, patterns applied to the most adorable stampers! All along building their creativity, motor skills, confidence and lots more.The desire to make is exciting, the creative process of making takes both the left and right brains on a journey of a lifetime; and the accomplishment of self-expression is invigorating. So Explore, Create and get ready to Say – "Look, What I made!"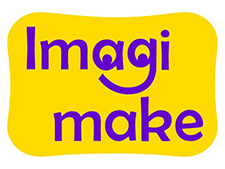 Imagimake Stamp Art is all about children, fun, learning and imagination! We have launched a set of interesting Do It Yourself Craft Kits for kids from 3 yrs all the way up to items that even adults enjoy! These products are a great way to harness the creativity and expose kids to a whole new world of possibilities!