About Mapology Combo: Map Puzzle of India and World with Capitals and Flags of Countries
A specially curated and design Mapology Combo to learn about countries, their capitals and flags. The entire set is a combination of India, Europe and World Map. Unlike regular jigsaw puzzles, the mapology combo pieces are cut in the respective shape of the states and countries, which fit snugly to each other and create a perfect scaled model map. The World Map set comes with 3 puzzle frames- 2 for entire world and 1 separate set for Europe to help children get a magnified view of popular European Country. The Puzzle accompanies 83 nation pieces cut in as per political map shapes and ensures hours of fun and constructive play time for kids.
The Mapology Combo toy pack also contain sticker for flags and capital of 65 countries from around the world. The India Map Puzzle set includes 24 puzzle pieces for various states within the country. Smaller state pieces have been clubbed to make the handling of puzzle easier for a child. The toy also includes stickers of state capitals that can be stuck on the plastic flag pieces provided for each state. Both the maps use a thicker 8 mm foam base that makes the product longer lasting and easier to handle. The vibrant colored pieces are very exciting for a child to play with.
One of the best fun learning puzzle that works on motor skills and spatial skills and caters to child's learning and knowledge. This product also makes for a great birthday gift for children in the age of 5 to 8 years.
Mapology Combo: Map Puzzle of India and World with Capitals and Flags of Countries
GEOGRAPHY MADE FUN: A unique and fun foam puzzle to learn States of India and more than 65 countries in the world with their Flags & Capitals
SOLVE TO LEARN THE LOCATION: This learning & education toy consists of 4 EVA foam frame puzzle, with precisely puzzle pieces that will help the child learn the locations of the States of India and Countries around the World
FLAG THE CAPITALS: Paste the capital stickers on one side of the plastic flags and insert these in the State and Country pieces to learn the capitals of the States and Countries
STURDY & SAFE: All the pieces of Mapology Combo are made of 8 mm EVA foam snugly fit to form the India & World map. The materials used in this educational toys for kids 5 years & above conform to the ASTM standards for toys so the parents can confidently choose this product to provide an innovative, delightful and safe play experience for their children
CONTENTS: 4 Foam Puzzle Frames, 103 Puzzle Pieces, 100 Flags, Sticker Sets & Instructions
About Imagimake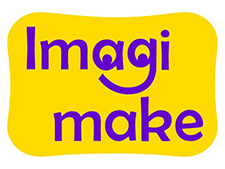 Imagimake is all about children, fun, learning and imagination! We have launched a set of interesting Do It Yourself Craft Kits for kids from 3 yrs all the way up to items that even adults enjoy! These products are a great way to harness the creativity and expose kids to a whole new world of possibilities!