About R for Rabbit Smart Plug and Play Tiny Toes Grand Baby Tricycle with Storage Basket
Tiny Toes Grand – The Smart Plug N Play Tricycle
Key Features:
Safety 1st :

 Our Tricycles are EN 71 Certified which is most stringent certification defined by European standards for Tricycles for Safety of Babies and Toddler. Every minor point is considered to give safest product to your Baby.

Grows with you Baby:

 Tiny Toes – Grand Tricycle can be used from 1.5 Yrs to 5 Yrs of Child's age. It can support upto 25 Kgs of weight which makes it stable and secure.

5 Mins Installation:

 Tiny Toes is designed to help parents which makes assembly of Tricycle so simple that it can be Assembled in 5 Mins.
Plug & Play Wheels :

 Plug & Play Wheels, Chrome finishing of the wheels makes it loved by baby and parents. Even it is great to use inside home.

Comfortable Seat with Safety Belts :

 Baby will have the most comfortable ride with Safety so that you don't need to worry for your little one. It comes with 2 point Safety harness to secure your Little one.

Storage Basket :

 Tiny Toes has got storage basket to keep everything that a baby takes play along items.

Cute Bell:

 Tiny Toes is Equipped with the bell on the handle bar that make fun for Child while cycling.

Stylish push bar with directional control:

 Child does not need to pedal. They simply enjoy the fun and independence. While you guide them with the parent push handle which is removable & adjustable.

Fold-Down Foot rest:

 Footrest give a comfortable ride to a Child while moving around with Parents. Child can Sit back and relax the ride.
About R for Rabbit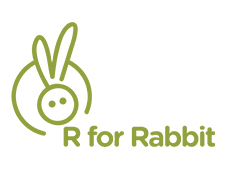 The concept of R for Rabbit was conceived after the founder of the company was blessed with a baby. The struggle to find safety standards certified baby gear products for their little one, led to the idea of creating well designed, portable baby gear products according to safety standards specification with easy folding mechanism. R for Rabbit offers a diverse range of baby gear products including Baby Pram, Baby Stroller, Baby Walker, Infant Car Seat, Baby Bath Tub, Mini Washing Machine and much more. They promise that Baby Gear Products are Safety Standards Certified, Innovative and Patented, Great quality products & Smooth after sales service.